Falling leaves by Narine Kroyan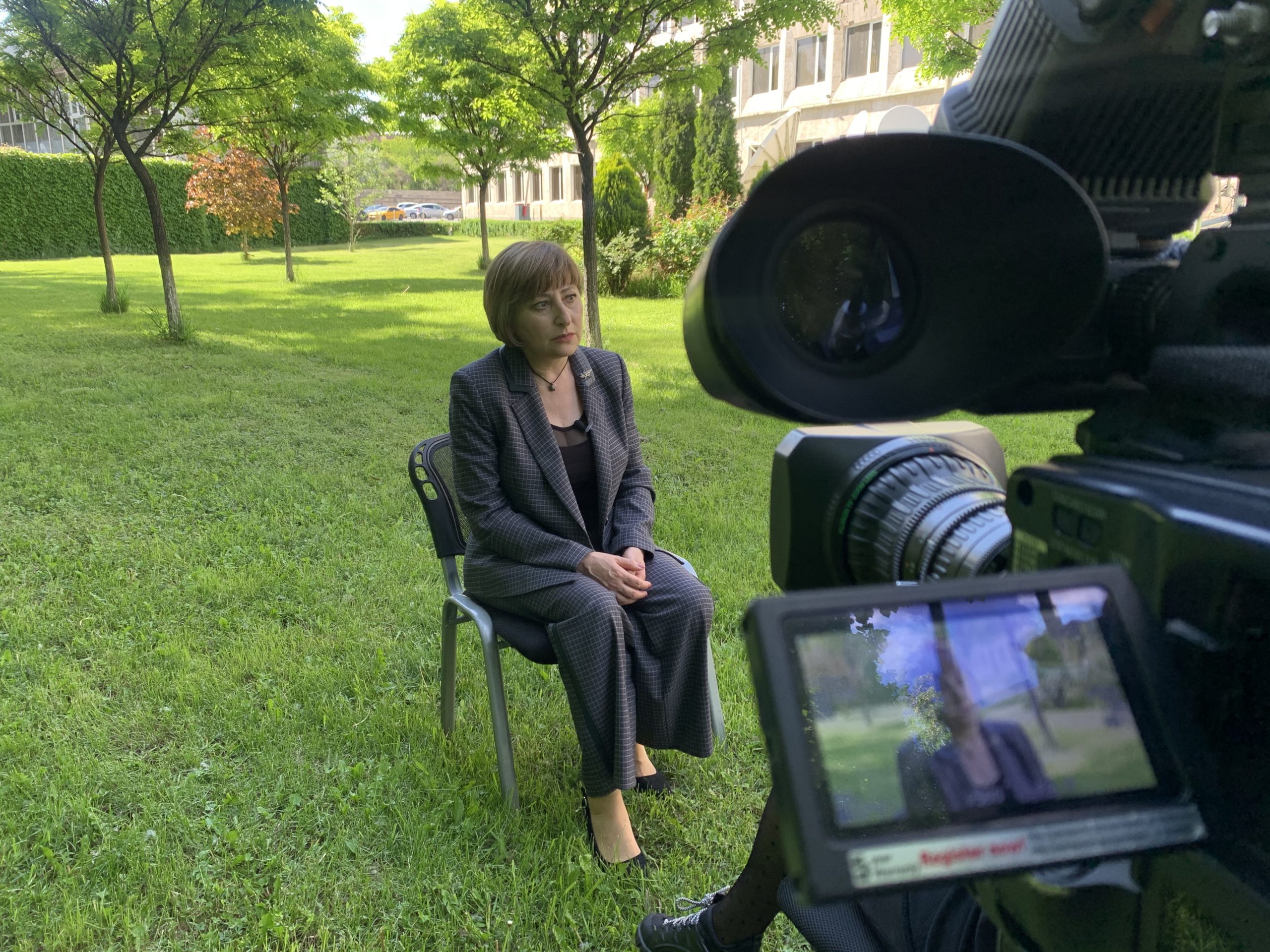 Falling leaves by Narine Kroyan
Translated by Anna Baghramyan
Falling leaves,
Cover me without complaining.
Let the day forget my empty being.
Bury my pain under the numb
Of your rotting remnants.
My wound may give birth
To a flower till spring.
N.K.
It may be so that everything in this world is about keeping and preserving the balance. However, it is kind of uncertain whether it is about the good or evil, about truth or lie, when both beauty and evil, truth and fake seem to be the way they are in the eyes of the beholder. Or, may be, there is another All-Seeing Eye for whom everything is harmonious, proper and beautiful, since other particular individuals cannot perceive joy without feeling pain. If they don't see the good, they will be cheated by the promises of the evil.
May be.
Thus, when somewhere something suddenly breaks that so-called balance, it restores itself immediately, no matter how. The most important thing is to restore it and sometimes it doesn't even matter what the price is. Moreover, everything, whether living or non-living, tries to restore its relatively stable state with minimal efforts, which in its turn can be done not by creating, but by depriving, absorbing someone or something that belongs to him especially when there are actually no "others" for the All-Seeing Eye.
Sometimes, by a miracle a new star or a whole galaxy is being born on the border of the endless Universe. Consequently, a Black Hole must certainly appear somewhere else and absorb the other older existing galaxy or a whole civilization hiding in the corner of that galaxy. It existed on the map of Universe before and now all of a sudden it doesn't. So, the crucial delusion of the creation is that the galaxy doesn't realize very often that it has appeared in the all-absorbing tube of the hole and goes on living and doing everything it did before dying.
You die and don't realize you have died.
The latest discoveries of neurophysiology state the same: the man dies, but still, for at least in the course of an hour after that, he is able to perceive, what is happening to himself, previous himself.
This is terrible.
Or, may be, these universal patterns are typical of nations who live without realizing that they are dead, because someone else's black hole has swallowed its children, its heirs, its imaginary immortality gene, leaving instead emptiness, total vacuum, like under a quality zip lock, where the dead body can stay fresh for a long time without rotting.
The most horrible thing about all this is that you don't perceive yourself dead.
—-
And so it goes, hiding in the small corner of the Universe, nameless for the eternity and blue in color because of ozone layer and water, on the relatively small planet where killing each other has been a regular pattern for decades rather than an exception, a war broke out again. A small county was also breaking out in war, a country where people wanted to live and fought just not to die. A few, miraculously survived soldiers retreating from the enemy hid in the falling-leaves forest weakened from autumn winds and powerlessness, surrounded by ruins, and small pits resembling ravines.
"Do you know what I am thinking about?"
"What?"
"Look, we always do everything not to think about death, because it is difficult to perceive your "not being" one day. But it is the thoughts about the death that make us cling to life, irrespective of the fact whether you live that damn life or not."
"What? What do you mean?", Bagrat looked at his friend surprised.
"What I say is that there should be something to console us, so that we can accept our mortality", Areg replied. "So, we have to suffer and life must give us a chance to hate it… So, God is merciful."
"Nah, to me you are speaking nonsense. You are a literate, educated person and I know nothing except constructing and cultivating gardens. I can't make it out what you say."
"All right then, tell me, why are we here in these ruins, when our fellows are not with us anymore? And up there, they even don't remember us or maybe they think we have died."
Areg thought that he would cry, his throat would choke, but he was surprisingly calm and his speech was deprived of emotions.
"Ok, tell me why?"
"Because we shall die."
"And I am sure they will come for us; they will find us…" "And if they won't?", Areg squeezed his eyelids.
But the approaching footsteps and the heavy noise of the leaves opposing the forthcoming of those walking, made the huddled-up soldiers hidden under the rare branches in the ravine keep silent and stop breathing. It became clear from their conversation that those were enemy soldiers.
The darkness of the twilight descending from the sky covered them and the newcomers advanced slowly, leaving the two survived soldiers behind.
The silence soon took over that part of the forest.
"I am hungry."
"I have nearly nothing left to eat. Try to eat some cheese at least today", Areg opened the backpack carefully. Inside, there were pieces of dry lavash and cheese.
"I have never had cheese in my life. Why should I eat it now? I'd rather die than eat cheese."
Areg didn't see the grimace on his friend's face.
"We shall move on as soon as it gets dark. Let's have a nap now, we have a long way ahead."
The boys leaned their backs on each other not to let the maddening wind crawl into their clothes and closed their eyes.
"I am tired like hell, but I can't sleep", complained Bagrat tossing and turning.
Areg didn't respond.
"Arego, hey, what were you saying? God is gracious or something like that… "Of course, He is."
"Is that why we are here now?"
"Exactly. How else can He prepare us for death? He should make us hate life, shouldn't he?" "Come on, why are you calling that damn guy with a scythe?", Bagrat wouldn't give up.
"What I say is that He should bore us so much that death becomes escape for us… something like liberation.
"Ah, liberation, ain't gonna happen…God won't let it happen… and He didn't, right? We didn't die", moaned Bagrat.
"What's then? Do you realize that we are behind the enemy's line? There are scads of them. How can we escape?"
"We'll find a way, we'll come out. I have just become a father. And my Susan is waiting for me." "Who asked you to marry this early?", Areg muttered. "Love did, bro, love did. You won't realize until you know."
Areg took out a crumpled sketchbook from his backpack and started doodling something.
"Writing poetry again?", mocked Bagrat.
"You wish… I am writing about me and you. I shall draw you now until the darkness doesn't let me to."
"No way. Let me see," Bagrat mechanically fixed his hair and reached his head nearer to the sketchbook. "Rather talented. When we get out of here, I will take a bath and you will draw my portrait, won't you?"
Areg smiled and nodded.
Then they probably fell asleep and it seemed that merging with the silence they also became a pile of leaves. And the soil, yet warm, embraced their cowering bodies like their mother would do and silently cradled them with the fading green of the small forest rising up from the ruins of the limestone building. The soil was so tired of the painful compulsion of the fate to enclose its own children that it decided to keep at least those two in the changing world of light and darkness. Or maybe earth and death had started a new game by betting on how long the two abandoned souls would endure. And so, who will win? The one who is on the ground, or the one who is usually in the ground and leads into the ground?
—-
There were many empty trucks, but the soldiers were all placed, more precisely said crammed, only into one. Areg even though loudly, that they could easily fit in three trucks, then why?…
The belt of the rifle, sliding form his shoulder, had clung to the rifle of another soldier sitting a few footsteps away and the upper part of his waist making up an extraordinary angle with the lower part, was pulling him forward. Areg realized that every movement in this situation could be fatal. "… what if the truck went down because of concussion and the rifle of the soldier standing straightly in front starts to fire drown by a sudden shaking?"
The engine of the truck wouldn't start.
He thought that it was for the better, that they would get off and would be placed in another car or cars, but the yells coming from outside made him concentrate on what was going on there.
Suddenly some of the soldiers who were crammed like fish in the can started to shout. "Kamikadze… Air 111…Kamikadze above… two of them…"
He hadn't been able to realize the meaning of the horror-driven uncertain yells, when the truck quivered and the started engine abruptly tore it off from the ground. But a few soldiers standing on the edge of the truck had already managed to jump off, pulling him from the rifle belt.
There was only prairie around with no place to hide. But unlike the truck moving in a predictable direction, they involuntarily dispersed here and there, watching from afar what happened to the truck. The shot of the drone was violent and precise. Areg's knees bent. He stopped, looked at the horizon veiled with the black smoke and sat down. Then he fell on the ground with his face down and curled up in convulsions.
"Hey, bro, get up, let's go", an unfamiliar voice said.
Getting no answer, the guy sat on his knees and drew back the hair of the lying from the forehead.
"Here you are, drink some water", continued the voice.
Areg slightly turned his head supported by the stranger who placed the bottle of the water on his mouth.
There was silence all around.
The burning sun which shone directly on Areg's face wouldn't let him see the savior's face. He could only see the thorn flower and a fat bee making love to it. It seemed to Areg that he is on another planet, in another world, where all the flying objects were created to make love and where everything falling from the sky was water. He slowly sat on the ground carefully observing the guy next to him.
"Open your mouth widely", said the stranger.
"Why?"
"I am doing a trick that will take away your fear, otherwise it will crawl into your body and do you bad."
For a while Areg didn't quite realize what the soldier was saying but involuntarily parted his jaws.
With a quick and keen movement, the soldier inserted his thumb into embarrassed Areg's mouth and pressing the palate started counting.
"One, two, three… That's it, we are done. I measured your fear."
Areg's mouth seemed to have frozen, and the "fear measurer" jokingly fixed his parted jaws.
"I am lucky. I usually get bitten."
Areg smiled back.
"My name is Bagrat. The belt of your rifle was stuck in mine."
Areg didn't reply. He looked at the speaker with unfamiliar but obvious affection and his eyes watered.
Bagrat looked much alike him: not so tall, thin and with a bit darker skin. Areg decided for himself that, may be, it was the sun of the prairie that had colored his skin and, perhaps, he was also darker now. He just couldn't see himself. He examined Bagrat's face for a long time and realized that, may be, he would never notice that ordinary guy in the street or in another place. He would just pass by and never know about his existence, because all were strangers for him, like in the orphanage where he spent his life or was kicked off by the countless orphan years. He thought in surprise that after all that, in some circumstances called war, everything has become his own, including that guy. Now it didn't matter whether Bagrat was his, or he was Bagrat's share in the rush, deafness and noise of the world. It was just his fortune to be pulled out from that horrible "fish can" and be saved.
"Come on, get up. Let's go. We might get lost if it gets dark," said the savior, cutting off the inappropriate flow of thoughts.
"Is there only two of us?" Areg turned his glance.
"I guess three more ran away."
"What about other cars?"
"Don't care. We left them to the Turks. And the commander drove away on that small military car. Son of a bitch."
"How come?" Areg asked without expecting an answer.
He (apparently they) served in border troops. He recalled how their professional commander, familiar to every stone and bush in the area was fired about half a year ago. Instead a self-confident rooster was appointed who had apparently hoped for a new star on his shoulder straps, but with the smell of the gunpowder made him flee right off like a chicken.
"I guess the sergeant of our squad had much more brains and knew much more than that major." "Hm. I also kept thinking of him being so young, but having a rank of a major." "That's why he bailed," Bagrat, cursing turned his head away and spitted.
"I guess there is neither squad, nor platoon, nor military unit left," Areg groaned gazing up at the heat-burnt skyline.
Bagrat jumped up and stretching his hand to the one who was sharing his fate, said, "Let's go, bro. The sun will be going down soon, and it will get colder. Don't be deluded by the sun."
With the sun hitting their backs the two soldiers walked toward the sunset, leaving behind the rugged and uneven prairie with soil mixed with blood, but not turned into black, but no one escorted them. Just a thorn flower silently turned its head in their direction and against the sun and only the fat bee saw an abandoned longing in its fading glance and flew away.
—-
He woke up. Bagrat was not there. He had no idea how long he had slept. He had his friend's still warm military coat on. He thought that Bagrat had covered him with it to keep him from freezing. Areg smiled but his anxiety was becoming stronger and intense. He took his rifle, then mechanically put on his coat, and realized that it hung on him clumsily like on a scarecrow. Bagrat had found that military coat hanging on the blackberry bushes growing on the two sides of the road.
Bagrat insisted on leaving the fields and prairie since the asphalt road left from Soviet times was the only one that was not mined. Bagrat was a small boy when his father exploded on the mine while working in the field. And there was a natural, primal, and unfading fear of repeating his father's fate in the orphaned heart of the "fear measurer". Besides they could quickly hide if needed in the ruins of whitewashed buildings along the road which were destroyed during the previous war.
Areg felt that he was already missing his friend, the one that was walking with and by him for days, sharing bread and pain with him, the one that was feeding him with dry blackberries and rosehip. Bagrat couldn't be very far; the military coat was still keeping his warmth. He wanted to call him, but an unexplainable fear locked his mouth. Then he convinced himself that Bagrat might have gone in the woods and would come back soon.
But that thought still was not that convincing.
He silently left the warm pit and walked through the darkness in an uncertain direction.
Voices were coming closer… No, he was moving towards the voices. There were five or six of them. The most embarrassing about all that was someone's piercing and cutting laughter promising a cold sunrise. It was the enemy.
"Are they from the same squad passing by a few hours ago, or these are other soldiers?"
From the enemy's still dimly visible uniforms and weapons, he realized that those were the soldiers of a special detachment troop.
Areg's heart sank.
"Bagrat…"
He lay down and crawled slowly forward. The humidity of leaves and the visible and invisible stones fallen from the buildings around were hindering his movement.
His heart wasn't lying. Bagrat was there, with hands crossed on his neck, lying on the ground… and all alone…
Areg involuntarily closed his mouth with his hand and buried his head between the stones. He wanted the ruins and the branches of the dead trees to scratch, tear and peel his face. He wanted to be faceless, since he WAS faceless, meaningless. He was a useless grass, cold-hearted, a real coward… When even the grass and stones, even dead branches could not be cowards. But he could.
He was useless. He knew that he could fire. He had fully loaded two rifles. His and Bagrat's… But he was unable to even lower the carrier and bring the rifle to a combat position. They would hear.
Finally, the pain had come. Stones seemed to be everywhere cutting into his body. He carefully rolled on his back but now the white of the sky was burning his eyes. He closed his ears not to hear Bagrat's yells and curses. And the sky stopped pressing him: it was deaf to the prayers of those lying on their back and belly.
But what if there was no sky? Only smooth and shining stones, on which one could draw clouds and the blue. Areg stood up and his eyes closed: the giggling animal, down on his knees, was slaughtering Bagrat.
Areg's limbs suddenly warmed up and cooled, like the blood in the warm veins of the victim.
Through his red eyelids with his eyes closed, Areg saw what was impossible to see. Something began to break him inside, threw him on the ground like a monument and turned off all the lights in the world.
When the light became noticeable, it seemed to Areg that he was in paradise. There was a song of a cricket, air, transparent like a diamond and lively, an almost visible flight of angels with the flutter of blackbirds and thrushes. He remembered that the war had not ended and that they were dying, that… Bagrat… Bagrat should have been in paradise with him.
Areg got up with difficulty and walked. His feet knew where to take him.
Bagrat's blood-soaked body and the head thrown away couldn't be in paradise.
Areg tore the greedy mouth of the soil with a knife and dug a grave. He felt that he felt nothing anymore!
Then he carefully moved the body parts of his friend into the pit, carefully joined them and washed
Bagrat's face with the water left in the bottle.
Bagrat was not dark-skinned at all.
And this discovery caused him further distress.
"You see, you are the lucky one, you didn't explode on a mine?" It seemed that someone's fingers touched his palate.
"One, two, three…"
He counted with someone inaudible, and a spiral pressed inside him sprang up. Areg straightened his back, dropped the useless rifles from his shoulders and fired on all the birds and those flying to paradise. His savage and helpless howl stopped with the last shot.
He didn't even think, he was not afraid that a bunch of cutthroats could hear or find him. He covered his friend with soil, threw away the useless rifles, put his almost empty backpack on his back and headed west along the old, asphalt road.
—-
The feeling of fear had disappeared.
The overwhelming and perpetual hunger was also gone. He was just walking like a perfectly tuned Swiss watch hoping to reach the point, though he didn't even have an idea where that point was.
It was getting dark. There was a forest in front, and he could have some rest.
Areg decided to go forward a little bit more but seeing the barely visible plume of smoke at a distance, which could be either friendly or hostile he decided to rely on the impending darkness.
He didn't sleep long. He saw a flashing light through the eyelids and opened his eyes.
There were amazing fireworks in the evening sky. The fiery flaming white beauty falling down from above like a fountain was stunning. With every new explosion the magic was coming closer and closer, spreading a nasty garlic smell around. For a moment it reminded Areg of the orphanage guard who never bathed. Finally, the beauty was down, on the ground, next to him, on the burning soil and trees, on big and small forest animals running in all directions.
He ran.
The fire was hunting him down.
Suddenly he slipped, closed his face with his hands and… lost his consciousness. Pain was everywhere, in every cell, or may be somewhere deeper?
"Hey, buddy, say something…"
Areg thought it was Bagrat. He got excited, tried to get up and open his eyes. But he was unable. Why? Did he touch his face, or he didn't? At last, he realized that both his hands and face were bandaged.
The voice continued, "You were а lucky devil. We noticed you from our position from afar and ran for help." The voice gave some instructions to someone. "In short, we bandaged you and injected a pain reliever until you get to the hospital. Hold on, brother."
All the fireworks the beauty of which astounded and inspired him were just phosphorus bombs – white gifts form the hell.
Then he fell into a deep sleep again and woke up in the crowd smelling with medicine. He was at hospital.
"You are a brave soldier, a hero. We are taking you to the surgery. Everything will be all right," the voice had different.
Later, he stopped listening to the "good for you"-s, "you are a hero"-s and "you will be ok"-s on the way from one place to another, from one hospital to another and from this to that operation. That day, however, he was told something else.
"We are taking your bandage off. For you to know, we give nearly 100% guarantee that one of your eyes will be ok. As for the second one, we'll see.
"I don't care, doctor." And Areg really didn't care. "Just take it off."
"No, no, it's not like that. You should care because we have another surprise for you." Areg thought about the impossible.
What if Bagrat's death was just a dream? What if Bagrat is…
His heart sprang like an untamed horse. The bandage was taken off without causing pain.
The piercing and cutting blade of light first blinded and then began to stroke his face. The light was warm. Areg involuntarily tried to touch his face, but his hand stopped in the air. Some of his fingers were partially or totally missing, others were unnaturally thin, as if he had white rubber gloves on.
"Give me a mirror," Areg thought he was crying, but there were no tear drops.
"My boy, you should use moisturizing medicine for your eyes and may be one day with the help of God, your tear glands will open. If by God's mercy you have reached here, it means you are born lucky."
There were other people in the hospital room. He squinted his eyes and could differentiate shades of two women. They had no medical uniform on.
One of the women suddenly burst into tears, appearing next to him and holding his wrinkled hand. "Bagrat, my son, I wish I were blind and didn't see you here…"
The woman swelled.
Areg tried to free his arm from the pincer hands of the stranger and the fear recovered. His throat squeezed. He felt that he was choking. He threw off the light blanket with the free hand and ran away. But having made two-three steps, he kneeled and fell down.
Now a young woman was next to him trying to put him on his feet supporting Areg from his armpits. "Bagrat, my love, it's me, Susan. My treasure, my exceptional, Bagrat jan…"
Now the women were on the floor with him, next to him, in his arms, on his shoulders, everywhere.
He had nowhere else to escape. To the big and small wounds hidden under the bandages an unmeasurable murmur was added. And no medicine, no lancet and no doctor could reach that wound.
Like a wax, lifeless doll, which was his reflection in the mirror, he was irresponsive to everything active, wet but so warm that no candle could resist long. At last Areg burst into tears swallowing the absent tears through the whistling of his wounded vocal cords. He clumsily hugged the crying women and squeezed the half-closed eyelid of his eye which had nearly a 100% possibility not to recover.
—-
Then everything was like in a blurry dream.
It was an ordinary one-story village house with additional small constructions. There was a clean, as if swept land in front. Areg thought that the crops had probably been harvested but there were still light brown but large pomegranates on the branches of the trees. He decided to imagine his location according to the surroundings. He couldn't recall where his loyal friend of the last few days was from.
The furniture in the house was not expensive but everything was neat and clean.
The two women were talking non-stop about different things, whereas he had nothing to say. He only knew that his presence and being was nothing but a materialistic betrayal of his friend. He, though, felt that he couldn't cause another dose of pain to those women as well, since even his half-presence and half-being made them feel infinitely happy.
What was more painful: the lie or the truth?
The days were passing by under the hourly deepening burden of their neighbors and relatives congratulating him upon his return or crying all eyes for their sons who died in war. And this was veiling the way back more and more.
The most intolerable, however, was little Sose's presence in his arms, when Bagrat's mother, Lusik, was putting her in the arms of the lying wounded soldier and kept saying, "Go to dad, my honey. This will help him recover soon."
The infinite love and care of the women won.
Finally, he got up and started walking of course leaning on a cane, cautiously and slowly at first, then faster and for longer periods. And one day in the evening after strolling in the garden, when he came home and went to bed, suddenly felt someone's warm breath on his back. It was Susan… His body shrank and froze. He squeezed his eyes and pretended to be asleep.
He fell asleep. Physical and mental sufferings prevailed.
In his dream he saw that forest. Crawling over the leaves, he reached a small field from where voices and giggles were heard. He raised his head and saw himself. The beast in military was cutting his throat. Areg looked at dying himself and jumped up.
Holding his shoulders, Susan was continuously shaking him.
"Wake up, Bagrat, wake up, it is just a bad dream."
He sat in his bad, all in sticky sweat and looked around with eyes wide open.
"Where am I? Where am I?"
"You are home, son, you are home," cried the mother swallowing her tears and holding the baby in her arms.
"Mother?" repeated Areg several times in his mind and collapsed on the pillows.
In the morning Susan announced that sleeping next to him was a right choice and that she would never ever leave him alone at nights. Areg felt meaner and more useless.
Soon another dream was added to the one that Areg was continuously dreaming every single night. Now he also saw Bagrat. Out of breath he was fixing mine warning signs on the ground and looking at him through the wind," I am putting them for you not to hit a mine, because… God is gracious."
In the daytime, when he was awake, he was still able to control himself, but the nightmares were unchangeable. They were killing him.
One day Lusik decided to bake bread in a tandoor. The breathtaking smell of bread was everywhere.
They laid the table in the garden.
There was an abundance of a sunny day and a peaceful and warless autumn on the rustic table. And the bleat of cows and calf grazing fresh grass for the last time were spreading in the garden.
"Can this be real?", thought Areg numbly and reached for the plate of bog cheese on the other side of the table. He put the cheese on the freshly baked and still hot bread, made a bite and closed his eyes in bliss.
The sounds were gone.
When he opened his eyes, he felt lost. Two pairs of female frozen eyes were gazing at him with uncertain fear. Then the two gazes met each other and fell on the ground. Susan was the first to give in. She closed her mouth with her palm and ran in.
Lusik slowly rose from her seat, put away her chair noiselessly and walked toward the garden swaying slowly. Soon her thin body dressed in black disappeared behind the fence made of pomegranate trees.
Areg could hardly swallow the piece of salt that stuck in his throat and froze in his place.
He could not remember how long he was sitting like that. Maybe three hours.
Lusik came back. Her clothes were muddy, her face swollen and red.
She went into the house without uttering a word and closed the door, then came back and opened it.
Areg realized everything. He sat in the chair a bit more, then got up and leaning on a self-made cane entered the house as well. It was empty. He looked around and realized that there was nothing in that house that belonged to him. He looked at the old walls of the house with care and affection and went out.
There was a pile of leaves gathered near the path in the garden. Areg lay there on his back and looked at the darkening sky. The unexpected wind was intensifying. Cool and rare raindrops quickly changed into frozen small piercing crystals. Areg closed his eyes and cried. He didn't know whether his tear glands opened or it was just the dropping ice that was melting from a strange warmth which did not belong to him. The warmth was hugging him and then leaving again. And it seemed that the falling leaves he saw through the frozen and wet curtain were different. A whole forest was taking off its clothes burying the leaves in the ground. Like a huge invisible black mouth of a vacuum cleaner, the wind was curling and swallowing that green, leaving on the ground the yellow of the past and a wet, green yearning that could never turn yellow.
The hands that were shaking him again were not real. Those were some unreal women that were trying in vain to raise him.
One of them was holding a scribbled sketchbook. Vague continuous mourning of women hung in the air.
It seemed to Areg that now they were trying to make the name fit him like they did with Bagrat's military coat. Actually, neither of them ever fitted him. He just wanted to know whether …the human was cutting Bagrat's or his throat there in the forest.