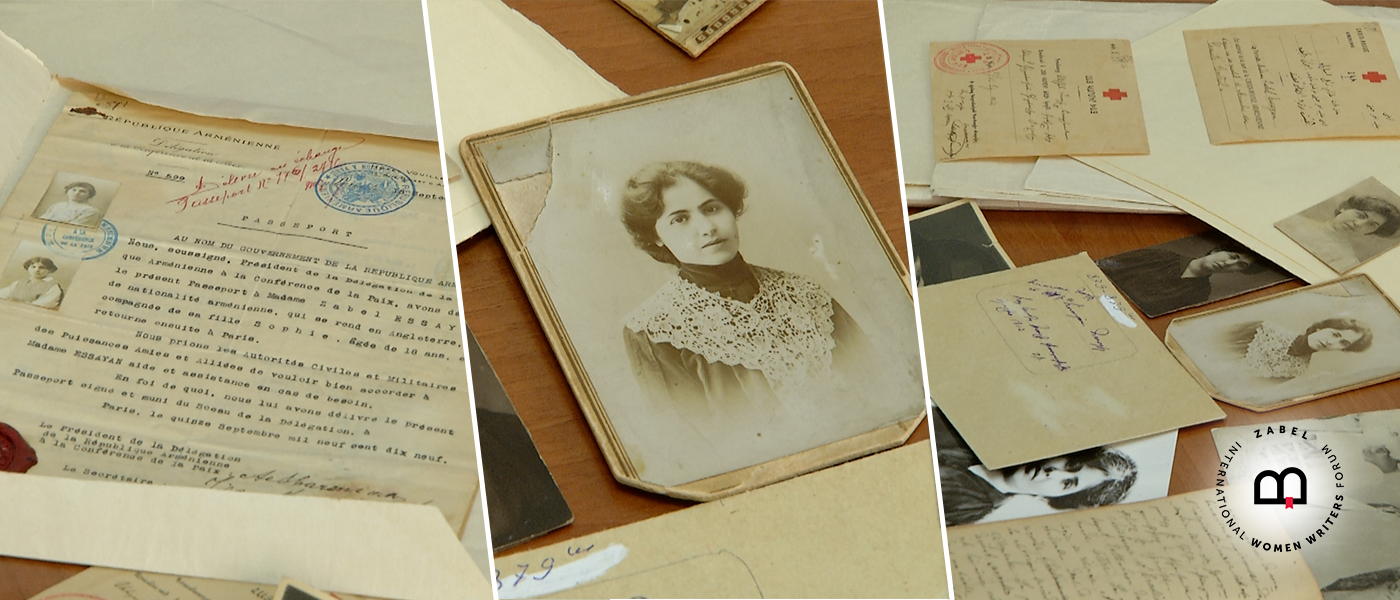 This is a tea-towel embroidered by Zabel Yesayan, which the Museum of Literature and Art has displayed along with its permanent exhibits. The scientific secretary of the museum Marine Haroyan shows the biggest personal archive of the Istanbul-Armenian writer, which is kept right here. "We have some small memorial pieces in the personal archive, where one or two items have been preserved, for example, a small cross which belonged to Zabel. She loved to embroider and we have a few of her works. And here, among the exhibits, you can see this towel embroidered by Zabel alongside with her photo".
More than 2000 pieces of materials belonging to Zabel Yesayan such as letters, photos, archive documents belonging to relatives are kept in the manuscripts archive of the museum. Her husband Tigran Yesayan was an artist. Some of his works have also been handed to the museum. "His personal fund in the archives is divided into several parts. First of all, it is the creative section, where we have a complete collection of his songs, with his autograph donated to the museum. There is also the typewritten preface of Alazani. We have several drama pieces.One ofthem is a libretto, which is probably a screenplay he sent to the Hayfilmproduction studio".
Zabel Yesayan donatedthe first materials to the museum in 1935 herself․ Years later, her daughter, Sofia, entrusted the most important family archives to the Museum of Literature and Art. "The collection of photos is quite large, but there are just few photos of her.The photos of relatives and other people prevail. We have very few of her books, mainly the books she published. I should say that we don't have her personal library".
There is a unique notebook in this valuable archive, where Zabel Yesayan, in addition to writing down her literary and philosophical notes, has compiled the list of her favorite books. There are also more than 200 pieces and 500 letters addressed to her are kept in our manuscripts archive. "Apart from her literary activities, Zabel Yesayan was also known as apublic activist and she was engaged in charitable activities as well. And you can find the reflection of her activities both in her documents and in her letters. For example, she had a correspondence with various charitable organizations which were dealing with the orphans of Cilicia and Adana, as well as the Red Cross and many other organizations. Wealso havemany materials in French".
A part of Zabel Yesayan's literary heritage has not been published yet. The memoirs, some valuable literary works in Armenian and French have been preserved in the personal archive, but still remain unpublished.