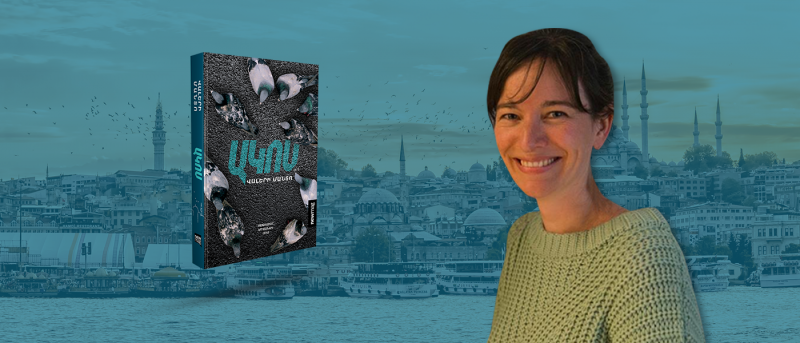 Newmag Publishing House translated and published "The Furrow" ("Agos"), a novel by Valérie Manteau, French journalist and writer. The novel is dedicated to Hrant Dink, Istanbul-Armenian intellectual. Literary critics have already named it an exceptionally remarkable literary work. The novel was awarded with Renaudot, a renowned French literary prize and became a bestselling book in France. It is an investigatory narrative where Valerie skillfully interweaves several genres: fiction, romance and investigative reporting.
She lived in Turkey for about two years, and found herself in a strange country and environment. She used to walk from one side of the strait to the other, wandering, like the ghost of Dink, through all the places that he once promised "to turn the hell, in which they live, into a heaven". She then visits all the prisons where around 150 journalists were suffering. As for the choice of the novel's hero, Hrant Dink, the writer explains in a very typical French and womanly way: "Hrant Dink was not only a strong realistic ideal, who was striving for peace, but also the most charismatic one."
Valérie Manteau is a French journalist and writer, residing both in Marseille and Istanbul. She has worked for the acclaimed Charlie Hebdo weekly for 5 years. After the attacks in the office of the newspaper in 2015 she decided to go to Istanbul to find peace and look for inspiration: "I knew that Turkey was not a long silent river, but I wanted to study the democratization process of the rather peaceful 2000s. There I hoped to get acquainted with the representatives of minorities – Armenians or Kurds".
freight train to Siberia. She goes through inhuman challenges, miraculously survives, and gets her share of "ordinary female happiness".
The life stories of homeless people with unknown destinies become the storyline of Guzel Yakhina's novel. The book was inspired by the true story of her grandmother who survived the Siberian exile, which, nevertheless, was hardly referred to by the author in the book. Instead, Yakhina put down the memoirs of other exiles. All the stories in the book cover the period of 1930-1946. Guzel Yakhina has brilliantly presented the controversial topic of the Stalin period horrors with historical accuracy and sensitivity. It is a page-turner.
For about two years, Yakhina studied historical and archival documents. The actual process of writing of the novel took eight months. Initially, Yakhina wrote a screenplay as an academic task at the Moscow Film School. According to literary critics, the novel "Zuleikha Opens Her Eyes" is an outstanding debut. In 2015, it was awarded the "Book of the Year", "Reader's Book" and "Yasnaya Polyana" literary awards. A play is being staged at the Bashkir Drama Theater. Russia's First Channel produced TV series, starring Chulpan Khamatova as Zuleikha.